1 XI Captain - Tom Burton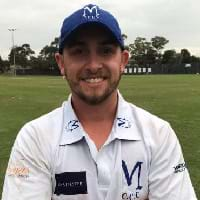 Tom comes from a distinguished background in England. He grew up playing for Warwickshire County Cricket Club, where he played in the Second XI but spent much of his time with the 1st XI, however, his full debut.
Tom holds the highest Premier League scores with Walmley CC, at a respectable total of 194 and he owns the second highest score at 175*. Tom has also won the DVCA Ray Christiansen Medal and 2 Club Championships while in Melbourne.
We look forward to seeing Tom lead our club for the 2018/19 season.
2 XI Captain - James Dobeli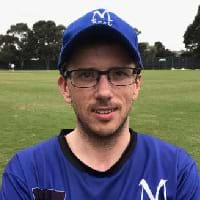 I first joined club in 1999, Joined committee because John Raymond asked if I could help him and the club - I'm always happy to help the club where I can so agreed to.
3 XI Captain - Rahul Sharma
In the club since I was 16 years old. For the last 4 years I have served on the committee being the club treasurer the past 3 years. to be the 3rd XI Captain in 2017/2018 which was being able to lead our junior players making their way into senior cricket. I am usually around the club after training and stick around on a Saturday post match to enjoy a few brews in the club rooms.
4 XI Captain - Allan Jago
I was fortunate enough to play all of my Junior Cricket at the Mazenod Cricket Club. I Under 14's Cricket and then Under 16's and continued my Cricket in the Senior side for many years. I stopped playing Cricket when I was 28 due to wanting to spend time with my young family. In 2012 my eldest son Matthew playing cricket at the Mazenod Cricket Club in the Under 14's team. I then became involved at the Club again as the Junior Co-. Matthew followed in my path playing Under 14's, Under 16's and now plays Senior Cricket at the club. My youngest son Nathan has also at Mazenod in the Under 14's side of which I am the Coach.
I feel it is important to in growing our Junior Program as these players are the future of the Mazenod Cricket Club. If we have a then the Senior teams will strengthen and evolve from the young cricketers at the club.
Our Senior teams are now from our Junior Program which has been in place for five years. We are an enthusiastic group of young boys are for selection into the Senior teams.
Over the past 5 years we have grown from two Junior teams (Under 14's and Under 16's) to five strong teams.
Under 13's
Under 14's
Under 15's
Under 16's
Under 17's
I enjoy watching the boys grow in confidence throughout the season both on and off the field. They are forming friendships that will last a lifetime